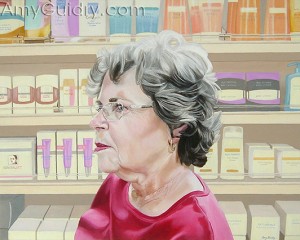 In an attempt to get my readers out there viewing my work in person, I want to inform you of two shows I will be in this Saturday.  As you may or may not know, this Saturday- May 10th- is the 2nd Saturday Artwalk in dowtown Lafayette.  In addition to the usual gallery openings, the AcA will unveil the Southern Open 2008, their juried exhibition featuring works from 5 Gulf states.  The show was juried by Peter Frank, an art historian and art critic, who frequently writes for LA Weekly.  There were over 770 entries and 105 works were selected.  One of my paintings, "Anti-Aging," is featured in the exhibit. 
The opening reception starts at 6, in conjunction with the Artwalk.  Peter Frank will be in attendance and is scheduled to give out awards at 7pm.  I will definitely be at the exhibit, so feel free to say hi or offer me some free porn or acne medication as do my spam fans. 
Also scheduled during the Artwalk is the Heymann Historic Ceiling Tile Project and Exhibit.  The exhibit will take place at Galerie Lafayette (located in Jefferson Street Market).  My tile, "New Realm," will be on display.  My tile has actually already sold, but its new owner has graciously obliged to leave the tile up for the exhibit before it is shipped to its new home in Montana.  So this will be my last chance to say goodbye, and your final opportunity to see my work in person. 
I will be running back and forth between the shows and checking out the other gallery openings while I am there.  Please stop by!  Artwalk is from 6-8ish, depending on the crowds.  You can see for yourself why so many people say my work looks even better in person.