All this holiday stuff has me thinking of many things- deadlines, shopping, stress, and of course, family. For some, stress and family are interchangeable. Ha! Anyway, as promised in a previous post, I am sharing more about my artistic relatives that everyone seems to want to know so much about. So I give you my brother, Craig. Craig's work is rather detail oriented and favors the style of comic books and pop surrealism. Yes, everyone wants to know if his work is anything like mine. On the surface, no, but I guess you could draw some sort of corollary if you know us each personally.  (Here he is working on his Lizard Man painting.  I'm not exactly sure of the title, but that's what I always call it.)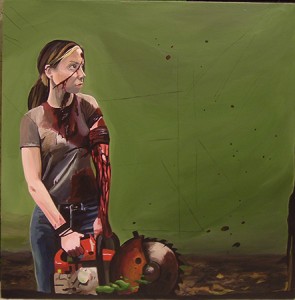 Craig's approach is different as well in that he applies many thick layers of paint. He also does a lot of pen and ink work, which I have not done in awhile. Unfortunately, Craig does not have a website. After enough prodding, he may have one eventually, but just not right now. However, you can rest assured that I will post any information here about shows he may have coming up. His work is also a little on the dark side, as you can see by the painting at the left. And yes, that is of me. Apparently this is how my brother sees me. Or maybe I had a bad day. And apparently took it out on someone. Who knows? At any rate, it's still a good painting… and an icebreaker.
Craig also partakes of assistance. Here he is shown with his assistant, Abbie. Abbie supervises his work. She is also a lap warmer. Though they have not worked together long, they are very close. And though she may look like a cat, she is not. She's just a very small and hairy person.
So there you have it. If any other family members draw or paint, I have yet to find out about it. And if I'm related to Van Gogh or Renoir, I have no idea. I have yet to do a family tree. But I can say that I'm related to some talented (living) people. So if this has piqued your interest, and you would like to see some of my own work, you can go to my website at www.AmyGuidry.com. Happy Thanksgiving!