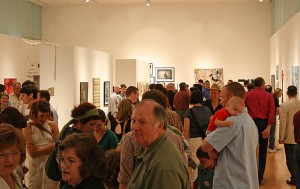 Well, if you weren't there, you must have been the only person NOT in attendance at the Southern Open this year. The Southern Open 2008 is the second juried exhibition held at the Acadiana Center for the Arts in downtown Lafayette. Last year it had a good crowd and a good number of entries, but this year was overwhelming. Perhaps word has started to spread. Who knows. Regardless, the place was packed, you had to practically yell to be heard, and there were nearly 800 entries (and that's from only the 5 states allowed to participate). Yowza.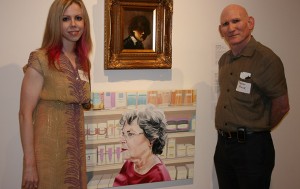 As stated in my last post, the juror was Peter Frank, art critic, art historian, and writer for LA Weekly. I had the opportunity to meet him and get my picture taken. The show was very diverse, and as he stated, juried shows allow him to choose a wide range of work as opposed to a typical curated show with more of a direct focus. Makes sense. I appreciate that his taste is eclectic. Sometimes juried shows will favor a particular style, depending on the juror, but this one had variety. Maybe it's the secret ADD person in me, but I often prefer shows with diverse works. It keeps me interested. I love to see how they all fit together even though they were created by different people.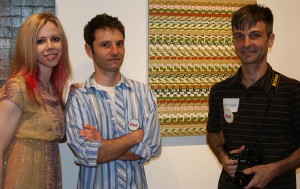 Alas, my work did not win any awards, but it was chosen. I'm more than happy to say that. And it was amongst some great work, so I was happy to be in their company. I did think it was placed a little low on the wall, which Peter Frank agreed, so you may notice this in the photos. I guess they had space issues because a lot of pieces were grouped together one above the other.
If you'd like to view all of the photos from the exhibit, you can check them out at www.AmyGuidry.com/slideshow.htm