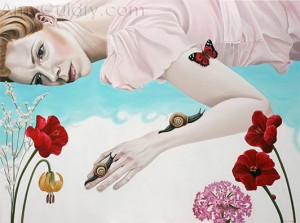 I wanted to take a moment to write a review of sorts of a local gallery in Lafayette, LA. I'm always interested to see what others are up to, especially when they do their own thing as opposed to just following the mainstream. So when your gallery has its own artwalk and is situated away from the "usual suspects" (i.e. downtown gallery circuit), then it must be Visions Art Gallery.
There is a variety of artwork on the walls at any given time. Some of the artists are well-known in the community, while some are just starting out. There is pretty much something for everyone since the work ranges in style and medium. I recently purchased a Tom Ladousa ceramic piece from there (on sale) and have been eyeballing some de Kooning-esque pieces by Dutch Kepler.
Another quality about the gallery worth noting is the overall atmosphere. This is not a stuffy gallery. If you are in the witness protection program, you may not want to go here because these ladies will know your name before you leave. Bonnie Camos (the director) knows everyone and freely introduces everyone as well. Put it this way- if Bonnie has a myspace page (I have yet to look) then she must have a billion friends. And she genuinely takes an interest in them.
Visions hosts its own artwalk every third Saturday of the month. This falls after the usual 2nd Saturday Artwalk held downtown in Lafayette, and also allows Visions to spotlight its own exhibits. Having only one exhibit to attend makes it easier to take your time and meet the artists as opposed to rushing through to make it to the next gallery before closing. (Although I do love the downtown artwalk as well.) But even if you can't make it to an opening reception, you can always go during the day, enjoy the art, enjoy the coffee, and make plenty of friends. And maybe add them to your myspace page…