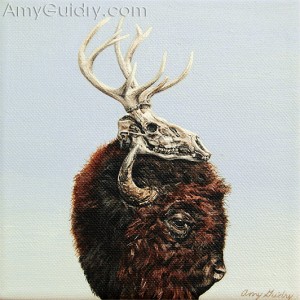 After waiting for the (delayed) results, I've finally received word that my work was accepted into the upcoming Art Melt at the Louisiana State Museum in Baton Rouge, LA.  My painting "Trophy" (from my "In Our Veins" series) was selected.  The jurors for this year's competition were Rachel Wolff (Brooklyn-based critic, writer, and editor); Benjamin Hickey (Curator, Masur Museum of Art, Monroe, LA); and Kelli Scott Kelley (Artist and Associate Professor of Painting, Louisiana State University, Baton Rouge, LA).
There will be a Preview Party on July 14th from 6:30-10pm in which there will be an open bar, food prepared by Heirloom Cuisine throughout the entire evening, and live performances by the band King James and the Special Men and Of Moving Colors dance troupe.  Tickets are available through www.ArtMelt.org.  The opening reception will be July 16th from 5-10pm and is open to the public.  The exhibit will be up through August 28th.
For a close-up view of "Trophy" as well as my other paintings, visit my website at this direct link: www.amyguidry.com/trophy.html.