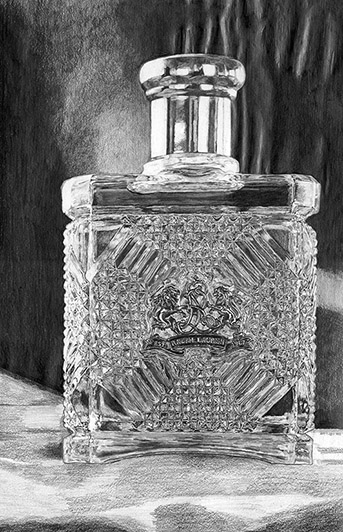 This is one of my portfolio pieces from high school. I thought it might be fun to post work from my "early days." I drew this from an ad for Ralph Lauren's Safari perfume. I remember it being a hit in my art class. I actually still have it buried away in one of my many portfolios. You can see where the paper buckled from all my wear and tear on it as I was coloring in such a dark section. The small glass pieces were fun to do. I treated each one with individual attention.  I also liked drawing in the lions. 
I blocked in the length and width of the bottle in my original line sketch, and then filled in the squares of glass.  So actually, you can see how the piece is not perfectly symmetric, thanks to my freehand work.  Somehow I managed to squeeze it all in so the patterns still fit within the bottle.  And one side is narrower than the other.  Still, I'd say it's not too shabby for a teenager. 
This was during my black and white stage- everything I did was in pencil or charcoal. Black and white photography was fascinating to me, so I used those concepts in drawing.  Now, obviously, I love to work in color. You can check out my new work at www.AmyGuidry.com.