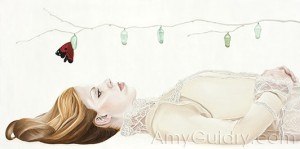 Lots going on this week, so I am posting yet again.  Making up for lost time, right?  I have a new painting finished.  It is from the New Realm series.  It's called "Renewal" and it is 48″ x 24."  This will be in my upcoming solo exhibition at the Schepis Museum in Columbia, LA.
The piece features the heroine of the series as well as the butterflies, albeit in their cocoon stage.  One of the butterflies does break free from the cocoon.  Dew drops are interspersed on the branch as well.  The cocoons and the dew drops represent morning, or renewal, the start of a something new.
You can view this piece, in addition to the rest of my series, on my website www.AmyGuidry.com.  You can also view a new video of my work on YouTube at http://www.youtube.com/watch?v=7uL3H_rKW1k which features detail shots of my work in addition to the meanings behind the paintings.