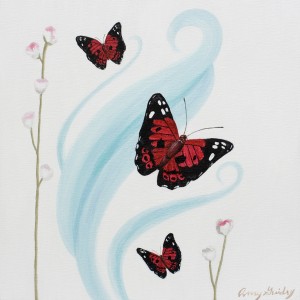 I will be participating in the LPB Art and Travel Auction, which supports Louisiana Public Broadcasting. I was asked to participate as a representing artist for the Oak Street Gallery in Hammond, LA. So I did a small piece, 6″ x 6″, wood-cradled panel, titled "Transcendence." This piece is an extension of my New Realm series and features the red and black butterflies seen throughout the series. I also added some of the flowers and blue swirls seen in a few of the other paintings in New Realm.
Aside from being part of the live auction on LPB during primetime, my painting is included in an exhibition of all the art up for auction at the Louisiana State Museum in Baton Rouge. The exhibit will be on display through May 18th. On-air coverage will be during primetime on June 7th at 6pm. You can also bid online at http://auction.lpb.org/. Just look under Gallery 17 Oak Street and you'll find my work listed there!
If you'd like to see more of my work, or my entire New Realm series, go to my website at www.AmyGuidry.com. And if you're a regular, check out my new home page design!