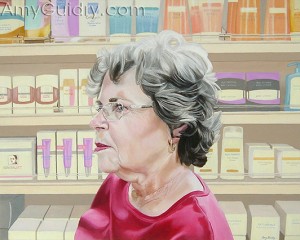 I received a call the other day from an artist and gallery owner in Maryland interested in my work. I was familiar with Jill Hackney's work and knew that she had recently opened a gallery there, so I was thrilled that she called me. Too bad I had the flu at the time, but I was surely as excited as one can be when they are lying on their deathbed. Anyway, in addition to showing at Jill's gallery, R. Coury Fine Art Gallery, she also asked that I participate in two exhibitions. One is in conjunction with Pinkapalooza, a benefit for the Blossoms of Hope Foundation. The other is for GreenScape, a benefit for the Chesapeake Bay Foundation.
"Anti-Aging" will be featured in the "Hope" exhibit at R. Coury Fine Art Gallery as part of Pinkapalooza. I chose that piece because aside from having a lot of pinks and pastel colors in it, it's also a piece about female beauty at any age. "Special Ingredients" is the painting I chose for the GreenScape exhibit which will be held at the Cotton Shed Gallery at the Savage Mill in Savage, MD. I felt this piece was appropriate for a green-themed exhibit given the rainforest destruction that occurs thanks to the fast food industry and beef industry in general. Plus there's nothing 'natural' about fast food since it's pumped full of trans fats, hormones, antibiotics, and a whole plethora of unknown substances.
So if you are in the area, go to R. Coury Fine Art Gallery for the Pinkapalooza benefit starting April 1st and open through May 15th with an auction and closing reception. The GreenScape exhibit will be April 13th and run through May 3rd with an auction and closing reception. If you'd like to learn more about these events, visit www.SavageMill.com. And if you'd like to view a larger image of these paintings, visit my website www.AmyGuidry.com.