I have a few photos of my current painting in progress.  With the size and background on this, it is one of my more involved pieces.  As with all of my paintings, I start off with a basic sketch onto the canvas.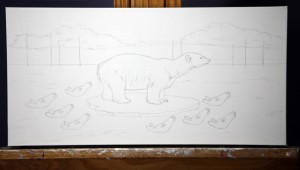 Then I add a rough first layer of paint just to work everything in and then add numerous subsequent layers, building color and value as I go.
The fine detail work is the final step.
I will post the finished painting soon (hopefully).  In the meantime, view the series here: http://amyguidry.com/wild_west.html and here: http://amyguidry.com/wolfpack.html.
————
Get the latest on new works via my monthly newsletter: www.amyguidry.com/contact.html
Follow me on Facebook: www.facebook.com/pages/Amy-Guidry/51953219932