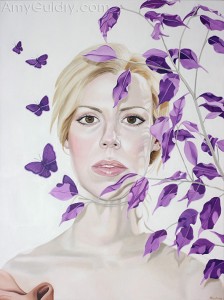 And I just can't hide it. If there's an award for dorky blog titles, I'm sure to receive it shortly. Anyway, as you may have already surmised, I have some good news. No, great news. I've been dying to find out the results of a competition I entered recently and as per usual with these things, the results were not announced on time. (I'm no math whiz, but I'd have to say this happens about 97% of the time.) So I was just taking care of emails and got my announcement! My work has been accepted into the 2009 Art Melt to be held at the Brunner Gallery in the Shaw Center for the Arts! Yea! So here's the really exciting part… normally they only have one juror, but this year they had three. One of which happened to be the curator of Prospect 1, the Art Biennial held in New Orleans recently. Here's the listing of jurors from the Art Melt site:
Dan Cameron is the visual arts director at the New Orleans Center for Contemporary Art. Cameron served as the director and curator for Prospect.1, the largest biennial of international contemporary art in the United States, recently held in New Orleans. Cameron has previously served as artistic director of the eighth Istanbul Biennial and curated the 2006 Taipei Biennial.
Ann Connelly is a Baton Rouge-based gallery owner with more than 18 years of experience as an art dealer. Her gallery, Ann Connelly Fine Art, represents a wide variety of local and national contemporary artists who have achieved recognition in national collections and publications.
Brian Young is the curator at the Academy Art Museum in Easton, Md. With more than a decade of curatorial experience in both traditional and contemporary art, Young has a history of success at Cranbrook Art Museum in Bloomfield Hills, Mich. and the Arkansas Arts Center in Little Rock.
The painting that was chosen is "Metamorphosis" from my New Realm series. It happens to be one of my favorite pieces, so I'm especially happy it was selected. (If you're new to my work, that's a photo of it on the left.) The opening reception will take place July 10th from 6:30-10 pm at the Shaw Center for the Arts in downtown Baton Rouge, LA. You can find out more details at www.artmelt.org.
And if you'd like to see more of my work, visit www.AmyGuidry.com