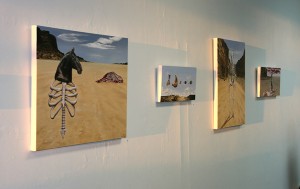 My work was recently selected for inclusion in the Multispecies Salon 3: Swarm to be held in New Orleans this November. The exhibit will take place in three gallery spaces- The Front, Kawliga Studios, and Ironworks. As stated on their website, the exhibit will "use art to address a series of interrelated questions about nature: Which species flourish, and which fail, when natural and cultural worlds intermingle and collide? What happens when the bodies of organisms, and even entire ecosystems, are brought into schemes of biotechnology and dreams of biocapitalism? And finally, with particular relevance to New Orleans: In the aftermath of disaster–in a blasted landscape that has been transformed by multiple catastrophes–what are the possibilities of biocultural hope?"
Multispecies Salon was first organized by anthropologist Eben Kirksey and friends as an outshoot of the annual convention of the Association of American Anthropologists (AAA). The AAA will hold their convention in New Orleans from November 18-21, 2010. The Multispecies Salon will schedule a speaking series as well as a reception for anthropologists who will be in New Orleans for the convention on Thursday, November 18.
There are also three themes to the exhibit: "Edible Companions," "Life in the Age of Biotechnology," and "Hope in a Blasted Landscape." Since this is still early, I don't have all the details yet, but I believe my work will be in the "Edible Companions" exhibit at The Front gallery. The opening for the event will be November 13th as part of the Second Saturday Artwalk in the St. Claude Arts District. The exhibit will be up through December 5th. As I get more details such as time, etc. I will post as soon as possible. In the meantime, if you'd like to see more of my work, be sure to check out my website at www.AmyGuidry.com.