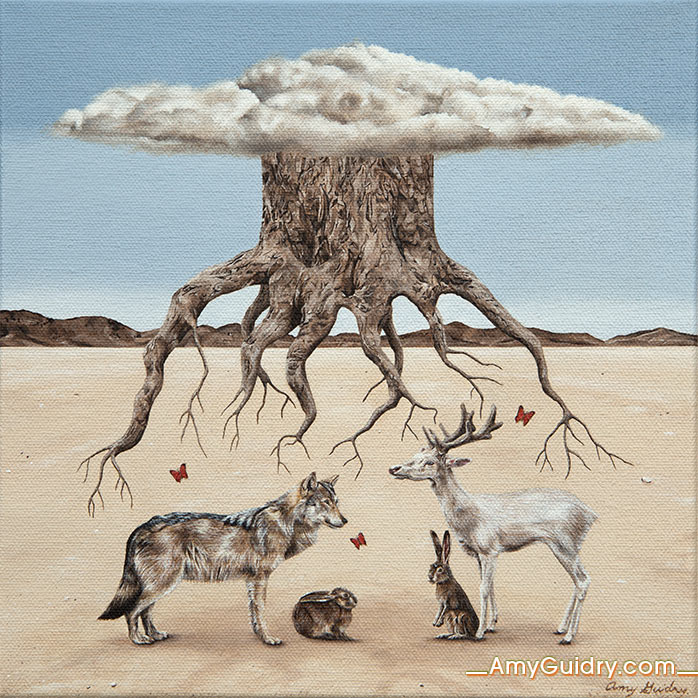 One of the most popular questions I get about my art is what influences me as an artist.  I could give a long list of disparate things, but really the biggest influence is nature.  From a young age, I was concerned about the welfare of the planet, as well as animal welfare.  Recycling and purchasing eco-friendly, cruelty-free products became a way of life for me.
Eventually a trip to the university library would lead to a significant change in my life.  I came across a book about the the conditions of slaughterhouses and the horrible consequences they have on not only animals, but the workers, and the planet as well.  Thinking this was a fluke, I looked for more information.  After a lot of additional research, I kept finding the same horrible accounts, over and over again.  I immediately became a vegetarian.  A few years later I decided to take it up a notch and become a vegan.
By the time I started painting professionally, my artwork was becoming more surreal but also heavily influenced by my concern for the environment and animal welfare.  I always used my art as a platform for raising awareness and asking questions, but I was looking to challenge myself even more both technically and conceptually.  My current body of work, "In Our Veins," explores the connections between all life forms and the process of the life cycle.  This includes the interdependence of the human race to each other and to the rest of the animal kingdom, as well as the planet itself.
As my work reaches new audiences, there is a new opportunity for a dialogue between my art and the viewer.  From there, maybe it will inspire them, get them questioning, or thinking about how they can bring forth positive change in the world.
————
Get the latest on new works via my monthly newsletter: www.amyguidry.com/contact.html
Follow me on Facebook: www.facebook.com/pages/Amy-Guidry/51953219932