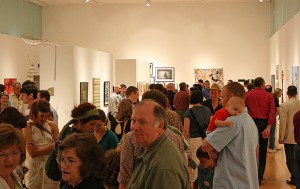 In addition to Mother's Day, this weekend is also the Second Saturday Artwalk in Downtown Lafayette, LA for the month of May. This Artwalk will feature work from students of the Lafayette Parish School System and the Talented Art Program in several galleries and restaurants around the downtown area. As a former Talented Art Program student from the New Orleans area, I can attest to the importance of such a program and it's impact. So be sure to come out and see what future professional artists are doing in our community! As promised, here is this month's schedule:
Acadiana Center for the Arts -101 W. Vermilion St. / 233-7060
Main Gallery: May 8 – July 24, 2010 Southern Open 2010
Side Gallery: May 8 – June 4, 2010 Jeremiah Ariaz: Tucumcari
Vault Series: May 8 – July 24, 2010 Pat Juneau
Architects + Artists Gallery– 200 Jefferson St. / 234-4166
Artwork by students of the Lafayette Parish School System's Talent Art Program
Cajun Spice– 535 Jefferson St / 232-3061
Eclectic Chairs, Mosaics and More by Tanya Falgout through May 31
Cité des Arts– 109 Vine St. / 291-1122
Artwork from the local talent in our Lafayette Parish Schools.
Galerie Eclaireuse– 535 Jefferson St. / 234-5492
Sue Boagni and Paul Schexneider
Gallery 549– 549 Jefferson St. / 593-0796
Frederic O. Daspit – New Sculpture
Gallery R (at The Russo Group)– 116 E. Congress St. / 769-1530
Exuberance: The Art of Coyo